The Brain Showsm hosts are fully insured, dedicated professionals with extensive backgrounds in entertainment, education, diversity training, and more..... Each host is guaranteed to make your event memorable. Over 95% of The Brain Showsm clients re-book year after year.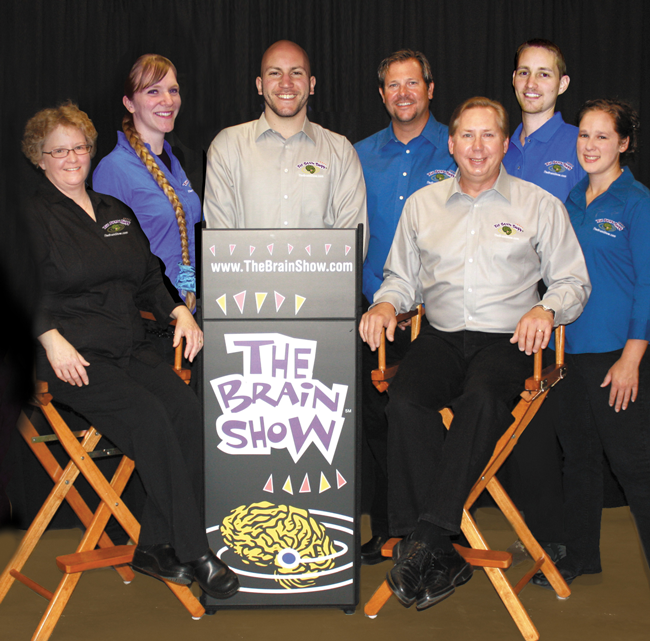 From Left to Right - Beverly O'Lear, Hannah Franko, Richard Aponte, Glen Foster, Jeff O'Lear, Jonathan Frederick, Arielle Sekula
Jeff & Beverly:
Jeff O'Lear and his wife (and partner) Beverly are the creative force behind The Brain Showsm.  Jeff has over 38 years of experience in the entertainment industry and over 25 years producing quality educational entertainment for schools, college, corporate, and entertainment venues.  Jeff and Beverly co-founded Magic Touch Entertainmentsm in 1984 and have devoted their careers to delivering the "BEST in Family Fun Entertainment". 
Jonathan:
Jonathan made the decision to join The Brain Showsm in October of 2010. Venturing from bright sunny Florida, to the mountains of Northeast Pennsylvania, was quite a transition. He has proven to be an asset to The Brain Showsm and is now one of the most requested hosts. Besides his fantastic smile, his personality and professionalism are his greatest attributes for The Brain Showsm Company.
Glen:
Glen's talents round out The Brain Showsm host roster. Glen's dedication to the performing arts can been seen in various productions at Ormond Beach Fl, Arabian Nights (Kissimmee Fl), and Walt Disney World's Downtown Disney. Glen's bilingual abilities allow him to present speaking engagements for various corporate clients, schools, and libraries throughout the southeast and Puerto Rico. His quick wit and comedic timing allow him to deliver the fast paced The Brain Showsm format in either Spanish or English.