The Brain Showsm hosts are fully insured, dedicated professionals with extensive backgrounds in entertainment, education, diversity training, and more..... Each host is guaranteed to make your event memorable. Over 95% of The Brain Showsm clients re-book year after year.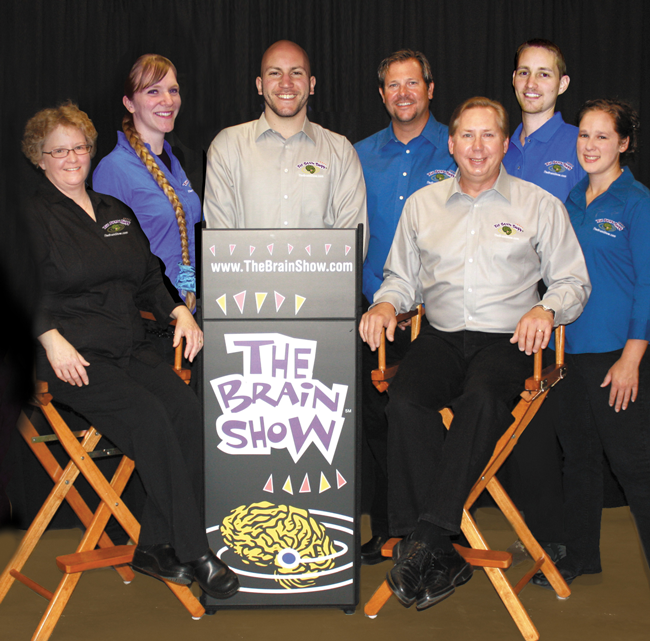 From Left to Right - Beverly O'Lear, Hannah Franko, Richard Aponte, Glen Foster, Jeff O'Lear, Jonathan Frederick, Arielle Sekula
Jeff & Beverly:
Jeff O'Lear and his wife (and partner) Beverly are the creative force behind The Brain Showsm.  Jeff has over 38 years of experience in the entertainment industry and over 25 years producing quality educational entertainment for schools, college, corporate, and entertainment venues.  Jeff and Beverly co-founded Magic Touch Entertainmentsm in 1984 and have devoted their careers to delivering the "BEST in Family Fun Entertainment". 
Arielle:
Arielle is a graduate of Edinboro University. She graduated cum laude with a degree in art. Performing now for 3 years with The Brain Showsm Arielle brings spark and energy to our roster and her artistic skills add to our unique educational programs. Arielle has the distinct honor of creating our 2010 /2011 colorful backdrop as well as this year's newest set design featuring a spectacular cornucopia of images that create The Brain Show'ssm unique vision.
Jonathan:
Jonathan made the decision to join The Brain Showsm in October of 2010. Venturing from bright sunny Florida, to the mountains of Northeast Pennsylvania, was quite a transition. He has proven to be an asset to The Brain Showsm and is now one of the most requested hosts. Besides his fantastic smile, his personality and professionalism are his greatest attributes for The Brain Showsm Company.
Hannah:
Hannah joins The Brain Showsm family with impressive educational credentials such as studying abroad in Germany and receiving a Fulbright Grant to study Architecture in Japan. While there, Hannah grew to appreciate the Japanese culture and accepted the job of teaching English to Middle School students. Being able to speak Japanese is a first for any The Brain Showsm host. Outside of The Brain Showsm, Hannah worked as a tour guide for Quiet Valley, located in the Pocono Mountains of Pennsylvania and also helped to publish a book about addition to the Nelson-Atkins Museum in Kansas City. The Brain Showsm is happy to have Hannah on board as our newest host!
Glen:
Glen's talents round out The Brain Showsm host roster. Glen's dedication to the performing arts can been seen in various productions at Ormond Beach Fl, Arabian Nights (Kissimmee Fl), and Walt Disney World's Downtown Disney. Glen's bilingual abilities allow him to present speaking engagements for various corporate clients, schools, and libraries throughout the southeast and Puerto Rico. His quick wit and comedic timing allow him to deliver the fast paced The Brain Showsm format in either Spanish or English.
Rich:
The The Brain Showsm is proud to introduce the newest host to our family. Rich earned his Bachelor's Degree in Health and Physical Education at Ithaca College in New York. The energy that Rich brings into each and every one of his shows would make the Energizer Bunny jealous! Rich really believes in The Brain Show'ssm slogan that "When teams work, Dreams work."